| | |
| --- | --- |
| Born: | 1957, Bern / Switzerland |
| Nationality: | Austria |
| Education: | Dipl.-Ing. (MSc) / Mining engineering |
| | Dr.mont. (PhD) / Mineral economics |
| Resident: | Leoben, Austria |
| Fluent in: | German, English, Spanish |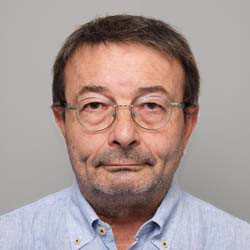 After obtaining his degree in mining engineering in 1985 at the Montanuniversitaet Leoben, Felix Hruschka served for six years as assistant professor at the Department for Mining Engineering and Mineral Economics. Among his duties were lecturing, research in the fields of mining technology and mineral economics, as well as administrative tasks and public relations. In 1991 Felix Hruschka obtained the PhD (Dr.mont.) in mineral economics and in 1992 he left the University to establish his own consulting firm tbb.hru in Leoben.
Long-term assignments in Ecuador and Peru, as resident project manager of Swiss-funded development projects in the artisanal and small-scale mining (ASM) sector from 1993 to 2006, provided a sound basis of expertise on a wide range of development issues of the minerals sector. Since 2004 these long-term projects became increasingly accompanied and enriched by short-term consultancies in Asia, Latin America and Africa on behalf of bi- and multilateral development agencies, civil society organizations, and the private sector.
Past and current assignments cover the entire project cycle, from baseline research to planning, implementation, monitoring and evaluation of projects in the extractive industries sector, and particularly in the ASM sub-sector. Issues addressed range from mining and mineral processing technology, technical and economic advice to small and medium enterprises, environmental and social issues, capacity building and training, responsible minerals supply chains, to aspects of national and global minerals- and development policy.
Projects
Appointments
2018 - now: Chair: Alliance for Responsible Mining
2015 - now: Board Member: Alliance for Responsible Mining
2014 - 2018: Standards Director: Alliance for Responsible Mining
2012 - 2013: Member of the Fairmined Standard Committee
2010 - 2018: Member of the Responsible Jewellery Council's Standard Committee
2009 - now: University Lecturer, Montanuniversitaet Leoben
2009 - 2012: Chair of the Joint Standards Sub-Committee for Fairtrade and Fairmined Gold
2009 - 2014: Standards Coordinator: Alliance for Responsible Mining
2006 - 2011: Member of the Technical Committee for Standard Zero Fair Trade Gold
2001 - 2005: Member of CASM Expert Advisory Group
Employment
1992 - now: Director of the Technisches Büro für Bergwesen Hruschka, Leoben. Austria
1985 - 1992: Assistant Professor at the Department for Mining Engineering and Minerals Economics, Montanuniversitaet Leoben, Austria
1983 - 1985: Student Collaborator at the Department for Mining Engineering and Minerals Economics, Montanuniversitaet Leoben, Austria